Lea Kirk On What Animal Companions Currently Help Her Write?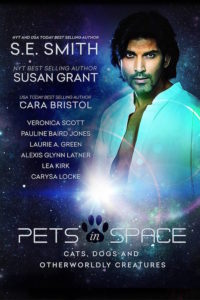 Nine of today's leading SFR authors combine their love of Science Fiction Romance and animals to show that sometimes even an alien needs a pet.
Pets in Space combines two of my big loves, science fiction and pets. I also love that a portion of proceeds are being donated to hero-dogs.org who raise and train service dogs for US veterans.
I am delighted that each author in Pets in Space has agreed to share with us an insight into their story in the anthology and a little bit about why they decided to write for the anthology. Today's guest is Lea Kirk:
He sounds friendly but it could be a trick. Not that it matters. I can't stop him from doing anything, he's too big and I'm just a little puppy. His paw reaches toward me then stops by my nose. He smells like…food.
I am so sad to say that we currently have no pets, and therefore I have no animal writing companion. We are looking, though, just haven't found "our" dog. Anyone who's a pet lover understands that statement. When you meet the right pet, something very special takes root in your heart. You just know this animal is meant to be a part of your family.
Since I currently don't have a pet writing companion, I'll tell you instead about my last, and best, writing companion. Her name was Indy, and she was something special. Remember what I said about knowing? Well, I knew the moment I saw her picture on the pet rescue website. We were a foster family for this particular rescue organization, so I called the woman who ran it and said, "Hey, we'd love to foster Indy." And she said, "Hey, we'd love for you to foster Indy."
I have to come clean right now and admit that to this day my husband doesn't know I made that call. He still thinks the rescue put out a general call for fosters and I responded. *Ahem* Once he reads this, the jig will be up.
Anyway, Indy came home with us and for the entire weekend my hubby said, "That dog's not staying with us. We're only fostering it." Yeah, right. The first night she was with us, I watched from the office window as he set down a towel on his workshop floor and coaxed her inside with him and our other dog. The man was smitten and refused to admit it. Eventually he caved in, just as I'd expected, and we officially adopted Indy a few weeks later.
Indy and I bonded in a way I'd never bonded with a dog before. For six years she was my writing companion and my BFF. We had a standing date twice a year, New Year's Eve and the Fourth of July. On those two evenings she would creep into the office and hide under my legs from the fireworks while I wrote. Even after all these years, I miss her most on those nights.
Interestingly enough, when I first started writing Space Ranger, I didn't realize Ranger had been inspired by Indy. Indy was a Rhodesian Ridgeback-Labrador, and Ranger is a full Ridgeback. Indy was a very light red, and her fur was lab-like in texture. Ranger's fur is sleek and red, red, red, like a Ridgeback. But her personality is very much like Indy's—sweet as heck, but a little imp with her antics. I may at some point write about a few of these antics. For now, I'm happy to introduce you to my little girl in Space Ranger.
UPDATE: On Sunday, September 18th, our new dog came home! It's taken almost a week, but my husband insists his name is Ranger. Being a Doberman, he looks nothing like his namesake in Space Ranger but seems to have her spirit. What kind of writing companion he will be remains to be seen. But, he is a love.